The New York Football Giants had no lack of weapons on offense since signing free agents Kenny Golladay and Kyle Rudolph to bolster their red zone potential. Pairing Darius Slayton, Sterling Shepherd and Pro-Bowler, but not really, Evan Engram with these extra bodies seemed like an immensely promising core in and of itself. The Giants decided they were not done. They decided to draft Kadarius Toney after trading down with the Chicago Bears at pick number 20. General Manager Dave Gettleman has historically never been the type to trade down, but after the Philadelphia Eagles selected Alabama wide receiver and Heisman Trophy Award recipient Devonta Smith, the direction of the Giants draft necessitated a sharp U-turn.
Toney scorched opposing defenses in his senior season at the University of Florida, starting in all 11 games, ending the year with 70 receptions, 984 yards and 10 touchdowns caught, with 2 more rushing touchdowns. He is just one of three players in the FBS last year that recorded a receiving, rushing and punt return touchdown. Toney is electric and has a lot of the physical tools and ball skills to become a number one wide receiver in a couple years. He is a bit undersized, and he reminds of Deebo Samuel and a smaller version of former All-Pro Derrick Mason.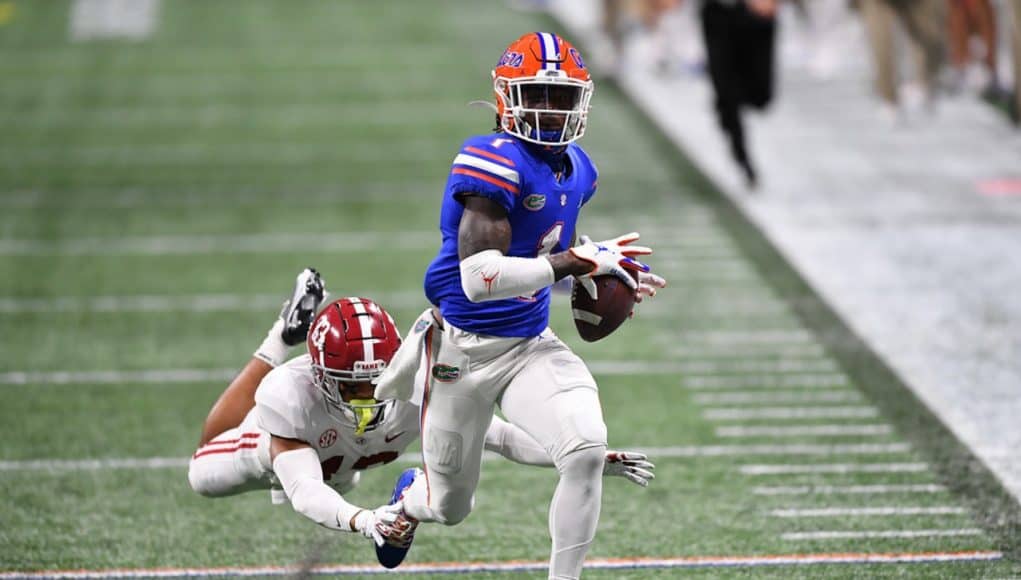 Toney, a 6'0 wide receiver, ran a 4.39 40 yard dash at his Pro Day. So what, right? A lot of guys are fast and it was not a groundbreaking feat but it is important to mark Toney's speed when assessing how the Giants plan to use the 22 year old speedster. The Giants pass game has always seemed one step away from being one step away. The Giants decided to take two steps this offseason with Kenny Golladay and Kadarius Toney. Toney is known for his sharp movement with the ball and his elusiveness in the open field. He is elite at creating separation and making opponents miss tackles. Toney can be utilized across the field, wthether it be on the boundary, in the slot, or in the backfield to fill that Dion Lewis-type role.
Toney is going to demand a lot of attention from slot corners and coverage linebackers, which will provide a lot of opportunities for Golladay, Slayton and potentially John Ross to get downfield more easily and more often. I am hoping that these new weapons allow Jason Garrett to be more creative and give more options in this offense, although his time in Dallas does not make that notion promising or comforting given all the talent they have had and the playoff success they did nit have. I am ecstatic with the Giants draft, and it makes more sense since they drafted a bunch of weapons for the offensive line last year, and the defense should always be considered to be the highlight of the team. This season is going to be very consequential for the G-men but the future has not looked this bright since Victor Cruz laced them up at Metlife Stadium on Sundays.