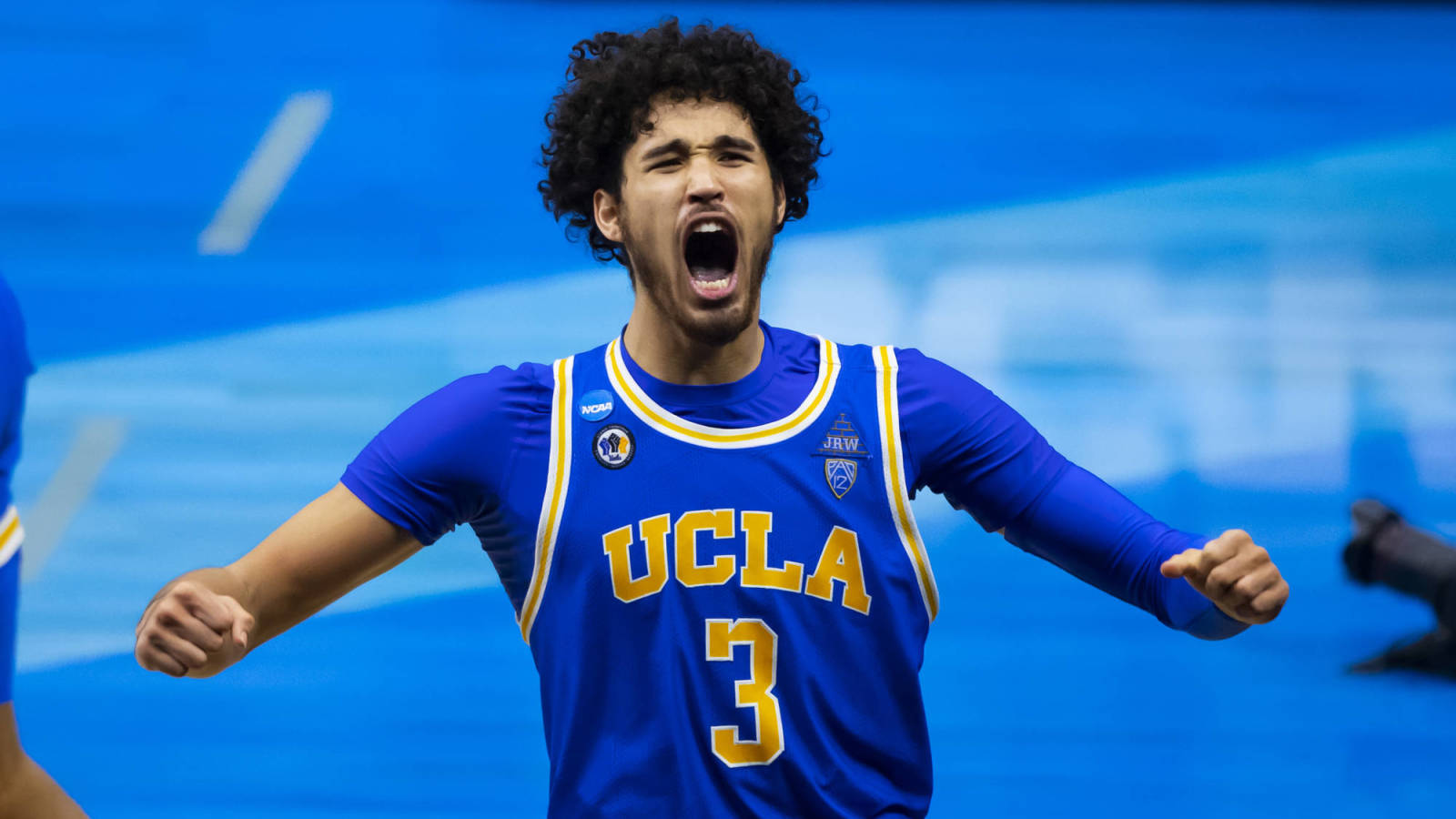 Johnny Juzang represents everything there is to love about March Madness and college basketball. The 6'6 sophomore led the 11th seed UCLA Bruins from the play-in round to the Final Four in Indianapolis. A four-star recruit coming out of Harvard Westlake High School, Juzang committed to Kentucky but did not accumulate much playing time with current NBA players Immanuel Quickley and Tyrese Maxey on the roster. Plus, Ashton Hagans and fellow recruits Keion Brooks, Khalil Whitney and Dontaie Allen were also vying for on-court opportunities. Juzang transferred to UCLA and was immediately granted eligibility for the 2020-2021 season. The rest is history, as they say.
Juzang was an extremely consistent player for the Bruins this season, averaging 16 points and 4 rebounds on the year. However, under the brightest lights on the biggest stage, Juzang's elevated his level of play, averaging 21 points over 7 tournament games while also being a floor general and leader for the scrappy Bruins. It is not unheard of for players to breakout come tournament time and we have seen examples of that during this year's March Madness, especially with Ohio's Jason Preston and Oral Roberts' Max Abmas. So, what does Juzang's surge really mean beneath the surface?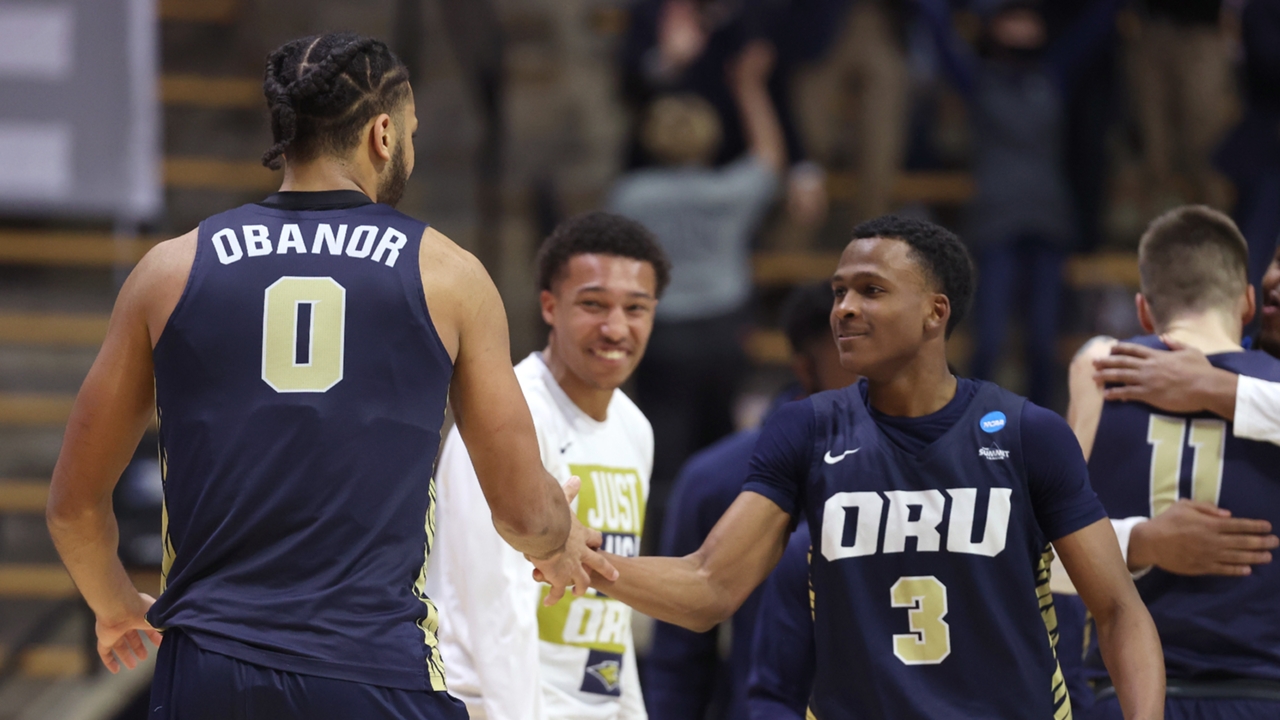 The college basketball realm is always highlighted by the big names schools or more commonly known in contemporary history as the 'Blue-Blood' schools. These schools are Duke, Kentucky, North Carolina, Kansas and most recently Villanova because they have won 2 out of the last 5 NCAA tournaments. Blue-Bloods have a bright pedigree and promote top-level competition. This is not to diminish UCLA's reputation as a juggernaut in the college basketball world, but modern high school recruiting has turned the tides of expectations for top prospects. To go further in-depth, I want to use Kentucky's current roster as an example of how drastic a college decision can be.
The Kentucky Wildcats recruiting class went as follows: Brandon Boston Jr. (5 Star), Terrence Clarke (5 Star), Isaiah Jackson (5 Star), Devin Askew (5 Star), Lance Ware (4 Star) and Cam'ron Fletcher (4 Star). Based on this, it's safe to say I understand why Johnny Juzang decided to take his chances elsewhere following his freshman season.
There is a vast difference between the futures of these players. Boston, Clarke and Jackson all declared for the draft, even after underperforming during a season where the Wildcats went 9-16 and missed the tournament. Jackson is a projected lottery pick but realistically, these players are getting drafted out of potential and raw talent rather than as a result of their on-court performances and accolades. Devin Askew and Cam'ron Fletcher both entered the transfer portal similarly to Juzang, with Askew finding his new home with the Texas Longhorns.
I am not anti- Blue blood basketball because I think having powerhouse schools is good for business and growing the sport amongst casual sports audiences. Blue-Blood schools are factories for NBA-level talent. Nevertheless, it seems like every year the top recruits decided to attend these schools, but only a handful ever get selected in the NBA Draft. The only recent outlier is the class of 2018 where Zion Williamson, R.J. Barrett and Cam Reddish committed to Duke and all were selected in the lottery of the 2019 Draft. In 2019, the Blue Devils did not have a single-player drafted in the first round despite having the number 1 recruiting class. Another year and a pandemic later, Duke misses the tournament as Jalen Johnson leaves school early to prepare for the NBA Draft.
Everything is good in moderation. The problem is not necessarily that these schools exist to breed competitive environments but that kids convince themselves that it is the best path to get to the NBA, which is what I disagree with. If you are a four-star player like Johnny Juzang coming out of high school and have offers from Alabama, Arizona State, and California, why would you commit to the school where you will have the hardest time getting on the court? There always seems like there is a twang of crookedness when it comes to collegiate athletics and that is the foundation for my argument.
Lastly, I want to look at all the prospective NBA players now that March Madness is over. Cade Cunningham, Evan Mobley, Jalen Suggs and Moses Moody are all projected top-10 picks in the draft. They were all regarded as top recruits in high school yet none of them went to a blue-blood school. No, Gonzaga is not a Blue-Blood. Suggs was the highest-ranked recruit they have ever had. They all went to their respective schools and stood out because they put themselves in a position where they knew they were going to play and help their teams win. They all succeeded, led their teams to greatness and played very well in the NCAA tournament (apart from Cunningham). Now, they are guaranteed lottery picks. So where does that leave us?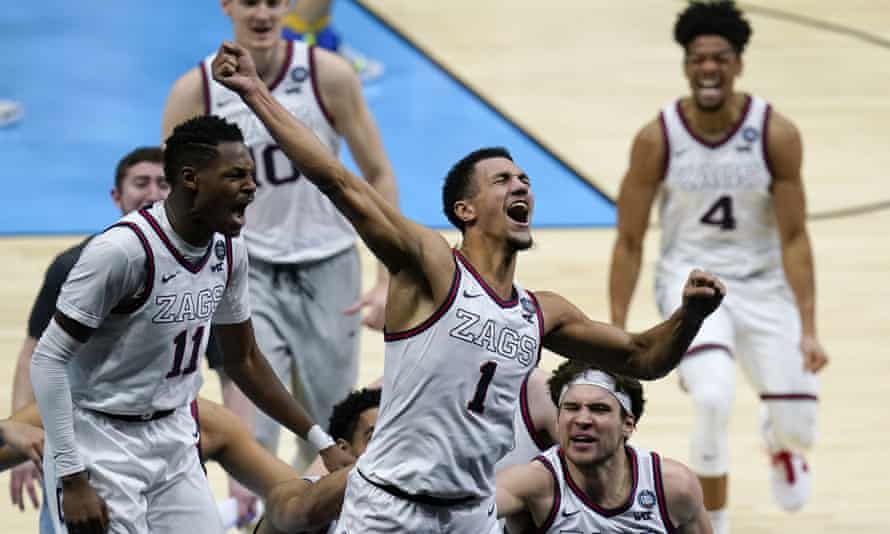 Johnny Juzang had to wait for his moment to shine and as a result of his patience, many people believe Juzang played his way into a first-round draft position. In the end, I understand why kids commit to big-name schools like Duke and Kentucky. There is a certain culture and a glow encompassing them, plus kids want to play for Hall of Fame coaches. I just wish kids would bet on themselves instead of betting on the programs they commit to. It is better to make your own moment than to just be part of a moment.